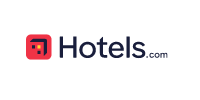 Hotels.com is leading provider of hotel accommodation worldwide, offering reservation services through their own network of localized websites and their telephone call centres. The site is available in 18 languages and offers over 120,000 hotels worldwide from independent and major chain hotels as well as self-catering to B&Bs in more than 16,000 destinations! Please note that cashback is not awarded for package bookings.
Cashback Offers
Cashback + Promotions
Cashback is available with Hotels.com, however, at this time we've no additional voucher codes or offers. Keep an eye out though, we're always adding new deals.
All offers listed are guaranteed to be available to members from Malta
Similar Offers
Randomly selected offers from similar categories
▲
Click again to redeem the offer